The School Choir
The School Choir braved the elements today (29th November 2015) to sing Christmas carols in Langley Moor town centre as the Christmas tree lights were being switched on.
Many thanks to all of the families who turned up to support the choir.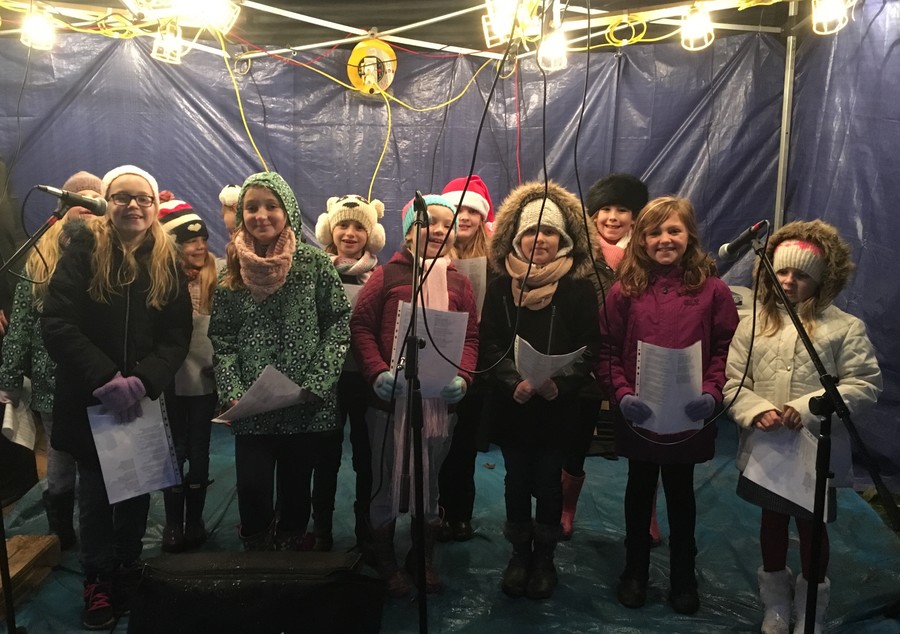 Fairtrade Tuck Shop
The children suggested that in order to fully support Fairtrade we should have a Fairtrade Tuck Shop. The new tuck shop began trading on Monday 7th October 2013 and it has proved to be very popular. All the items for sale are Fairtrade and are priced at 50p. Items for sale vary but generally we stock a range of Geo cereal bars, yoghurt covered raisins and other dried fruit options. The tuck shop is open every morning break and all pupils are welcome to visit it. Thank you to the pupils from Class One who are talking responsibility for running this facility.
World's Biggest Coffee Morning!
Following our Welcome Liturgy we hosted a coffee morning to support the MacMillan Cancer charity. Parents and family members kindly bought cups of coffee and tea as well as cakes and we were delighted to raise just over £90. Pupils also bought cakes to take home at the end of the day. Thank you to everyone who supported this very worthy cause.
Welcome Liturgy
To welcome new members to our school family we celebrated a welcome liturgy together. Our prayer table displayed signs of Autumn which reflected change and we thought about the change our new starters and their families were experiencing. Children from Class 1 introduced their buddies (our new Reception) to everyone and the reception children recited an action prayer together. Parents of all pupils new to the school were invited to light a candle for their child. The liturgy ended with the Song of Blessing where we thanked God for the many gifts in our school.

New School Year Mass
To mark the beginning of our new school year the whole school community gathered together to celebrate mass. Children from Class One led the congregation in the readings and bidding prayers and children from Class Two brought the gifts during the offertory. Before the final blessing Father Brian distributed a copy of a children's bible to each new pupil. He asked each child to cherish their bible and to read it often so that they grow in their knowledge and love of Jesus. Thank you to all the parents, family members and parishioners who joined us at mass and helped to make it a very special occasion to begin our new school year.
St. Patrick's Day
The day began with a liturgy led by Mrs. Burnside. We thought about the life of St. Patrick and how he spread Christianity to Ireland. We said a prayer to Saint Patrick and ended with the hymn 'Christ Be Beside Me' which is also known as St. Patrick's Breastplate. The children wore an item of green clothing to mark the special day and we all took part in some Irish dancing to traditional music. We all enjoyed the Irish jigs and realised just how fit you have to be to take part in Irish dancing properly! Later in the day the children enjoyed a chocolate treat.
World Book Day
Pupils and staff dressed as a variety of characters from many different books. We had enough Harry Potter characters to make our own Hogwarts class, many Disney characters and a few Robin Hoods. We all had lots of fun and celebrated our love of reading. We were fortunate that the local librarians could visit and talk to us about their job. All the children enjoyed reading activities throughout the day including making story book houses, role playing their own story with various characters and making masks. The school library was transformed into a large cosy reading area and all of the children enjoyed curling up with a good book.